Jones Hill Project: Trail Project Highlight
https://northcountrytrail.org/jones-hill-project-trail-project-highlight/
Jones Hill Project: Trail Project Highlight
We are excited to partner with the ADK (Adirondack Mountain Club) in developing new sections of the Trail in the Eastern Adirondacks.
The Jones Hill project is a multi-year effort to construct new trail in Hoffman Notch Wilderness and relocate the NCT to a sustainable, off-road trail. This project has been a collaborative effort of NCTA volunteers and the Adirondack Mountain Club's Professional Trail Crew. The 2020 work (including this 30-foot bridge) was completed with support from NCTA's Field Grant program.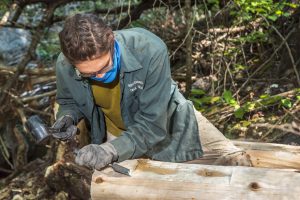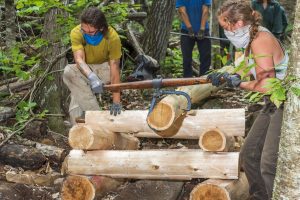 From the ADK: "This project focused on constructing a single span log stringer bridge over the outlet of a small pond that parallels the new trail for roughly a quarter-mile. Single span bridges are larger, more technical versions of the footbridges commonly seen in the Adirondack Park. They are reserved for wide crossings where supports are needed on each end (known as "cribbing") for the bridge to bear weight. Log stringers are debarked, leveled log sections used to create the bridge itself. The professional trail crew was authorized to recycle fallen cedar trees in order to craft the cribbing, stringers, and handrail for the bridge. The entire process, which was performed using only hand tools, took five days to complete.
Once the trail to the summit has been completed and marked, hikers will be treated to an outdoor experience that includes a mile-long ridgeline with a number of viewpoints. The approach is equally pleasant, featuring beaver flows, a large pond, and a dense deciduous forest landscape. Eventually, this trail will extend northeast allowing thru-hikers on the NCNST to continue towards Crown Point."
📸 Ben Brosseau, ADK